Congratulations on getting accepted to Hofstra! The process of applying, waiting, and finally getting into a university is already difficult in itself, but moving in and getting accommodated to the new environment is a whole different beast! Here are some of the best tips for incoming freshmen at Hofstra University!
1. Organization!
This tip is probably one of the most important tip on the list. Organization will be key throughout the entire move in process. Make a list of what you want to buy and bring to campus for your dorm. Watch youtube videos of what people bring with them to college… It will give you a good idea of what and what not to bring! Make sure you have everything packed before you move in, and once you move in, make sure you didn't forget anything in the car! It might sound dumb, but it happens more than you think… Once you are on campus, keep a calendar with all of your assignments on it, and make sure you are on top of your schedule. Professors respect it, and you will feel less stressed if you keep up with it.
2. Get Involved
Freshman year is definitely a daunting time in your life. One way to make is less so is to get involved as soon as you can. Go to Hofstra's student club fairs, keep an open mind, and find things that interest you! Maybe try something you didn't participate in during high school.. Sometimes, this can open doors you could never imagine (coming from personal experience)!
3. Put Yourself Out There
Making friends as a freshman can be pretty easy if you put yourself out there! Mostly every other freshman is just as nervous/excited to be on campus as you are so bond over it! Those first few weeks on campus can help you make some of your life long friends!
4. Bits and Bytes.
Bits and Bytes is one of the dining options on campus… It has a wide variety of options, from smoothies to a build your own ramen station! It's delicious.
5. The Netherlands Cafe
Apparently many freshmen do not know that The Netherlands Cafe exists right in the Netherlands complex. The food is quite good there too, so just keep that in mind when you need to get breakfast or lunch and don't want to walk to the Student Center.
6. It's Okay to Eat Alone Sometimes
The stigma behind eating alone is much more prevalent in high school than in college. Most people eat at least one meal alone a day in college just because they are busy, or can't meet up with there friends because of conflicting schedules. That's okay! No one cares. The beautiful thing about college is everyone is doing their own thing for the most part, and no one cares what anyone else does!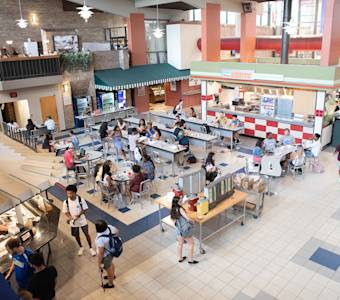 7. Rate My Professor
When you are planning your schedule, make sure you go onto Rate My Professor, and look for each of your possible professors for reviews from students to make sure they would be a good fit for you. Also, make sure you are looking at the ratings for the course you are taking… Sometimes, a professor can have a high overall rating, but low ratings for a certain course they teach (this happened to me!), and you could be stuck with a professor that may not teach the course you are taking as well as other courses you could've taken with them.
8. Make Connections With Your Professors
Become acquainted with your professors by answering in class, signing up for office hours, and asking questions after class. Building  acquaintanceships with professors may lead to help with finding internships, advice, and more helpful things that may help you in the long run!
9. Keep Your Dorm Clean
Keeping your dorm clean not only helps prevent you from getting sick, but it also helps stop confusion, stress, and gives you a calm place to come back to after a stressful day. Dust, do you bed, make the effort to keep your dorm nice. It will pay off in the long run.
10. Don't be Nervous… You've Got This.
This tip is probably impossible to follow, but eventually you will understand how exciting (rather than nerve-racking) this step in your life is! College is a wonderful place where you can learn new skills and take some of the first steps to becoming your own person! That is AWESOME. It is totally normal and okay to be nervous (I didn't sleep for days before I moved in because I was terrified… I get it), but this is a good thing, and Hofstra University is a great college to go to!